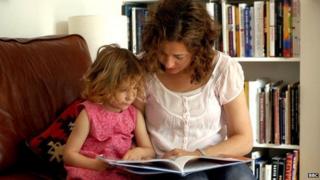 A new survey says that children wish they could spend more time with their parents.
Fifty nine per cent of children say they want to spend more time with their mum and dad but parent's busy lifestyles and long work hours mean they don't always have the time.
We want to know what you think. Is it cool to hang out with your mum or dad or do you prefer playing with friends?
How often do you see your parents?
Would you like to see more of them?
If you send us a comment, it may be published on the Newsround website, and some comments may be used in our TV bulletins. We'll use your first name and your home town to show that it's your comment; your personal details won't be used for anything else.
Your Comments
"I would like to spend more time with my mum and dad. However because they have busy jobs sometimes I don't see them for a day."
Bilal, Derby, England
"I barely spend time with my parents because there always at work or cleaning. Even in the holidays they're at work. It's not fair. Parents should work four days a week."
Olivia, Cheltenham, England
"My mum is always really busy and although I miss her, when I do see her it makes it more special for me. I would usually hang out with my friends but I do cool stuff with my mum and dad once a week so it is okay. I think that parents should spend all their free time with their kids but only if the have FREE time. Otherwise parents would never go to work because they would stay with their kids all day instead of earning money."
Ooda, London, England
"I think some parents should spend more time with their children but not like, "go and hang with them when their children are with friends" because they need their own space too."
Mary, Holywood, Northern Ireland
"I spend all day everyday with my mum as I am home educated and it is great! I would say to any parent to make as much time for their kids as possible. The only time I am away form my mum is when I go to drama group (and archery, but she has to stay there with me)."
Andrew, Staffordshire, England
"I don't get to spend much time because my parents are looking after my baby sister all the time."
Olivia, Manchester, England
"I like spending time with my parents when I can because they're really busy and have work."
Lily, London, England
"I spend time with my parents everyday and I'm the one who is sometimes busy."
Hanaka, London, England
"My mum is at work because she loves us. She spends as much time with us as possible but I think we would all love more time together. She does a great job with the time she has with us."
Steph, Wirral, England
"I only see my dad at weekends and my Mum works in a nursery so she is very busy during the week. They sometimes don't even get holidays."
Sophie, England
"My parents work loads but I still see them - every night we eat dinner at the table."
Millie, Canterbury, England
"I wish I could spend more time with my parents but I'm in high school which means i have LOADS of homework to do!"
Sarah, Gloucestershire, England
"My dad works in London all week so I only see him on the weekend when he is still on his emails or very tired from a busy week. I wish he was at home more."
Jasmina, Dorset, England
"I try to spend as much time with my parents as possible but most of the time I can only spend time with them in the holidays."
Millie, Liverpool, England
"On a school week I hardly see my parents because they're at work and only time I get to see them is on a weekend or school holidays."
Shellie, Birmingham, England
"I see my dad for around an hour every two weeks. My mum works long hours so I get a bus to and from school and make my own dinner- she gets home around half past seven. I don't see my parents very often at all on weekdays, although my mum cannot help her work hours."
Jaii, Essex, England
"I spend a lot of time with my parents and I think that other children should too."
Laura, Newcastle Upon Tyne, England
"I like spending time my with my parents but sometimes they can get in the way so I just like to chill out really! I would definitely want to see my dad more as I hardly see him."
Emz, York, England
"When I come back from school my mum picks me up and we sometimes go back home or go to one of my family's house on a Friday and sometimes on a Monday. I go to ballet and Irish dancing and my friend picks me up from ballet, so I get to see them quite a lot and I am glad."
Lorenzo, USA
"I have a very busy lifestyle and it is quite hard to find time with parents. Therefore it gives a holiday more to look forward to. I like it how it is."
Lara, Bedfordshire, England
"We think that parents are important, they are our role models and we can learn from them. We understand that they're often busy, doing things for the family but it would be nice to spend more time with them. They can be really cool to be with, however sometimes they can be weird and embarrassing. It is particularly important in families where parents have split up."
Class 6S, Berkshire, England
"I would like to spend more time going out with my parents but they are VERY busy with work."
Alex, Leeds, England
"We always spend time with parents, as they both work at our school!!!"
Alicia and Emily, Belfast, Ireland
"Apart from school, I spend more time with my parents than my classmates and friends. We often go out at weekends to explore parts of the Highlands that we have never visited before."
Christina, Inverness, Scotland
"I see my parents a lot and we try to eat together every day, but at weekends, the time we have for day trips and events is very limited. I do spend time with my parents though, and we go on family holidays at least once a year. I spend time with my friends too, but its equally balanced."
Annabel, Fareham, England
"I spend Sundays with my mum and Saturdays with my dad."
PG, York, England
"We spend time together quite a lot, even if my mom is cooking or doing the washing I still spend time with her. And when it comes to my dad I also spend time with him but on the PC. We like to watch hilarious videos on YouTube and post funny comments on the comment page or watch things about the war! Altogether I spend a lot of time with my mom and dad!"
Pete, York, England
"I play with my parents loads they are lots of fun. I think they are awesome."
Alfie, York, England
"I see my mum very often and my dad often. Me and my dad like to watch the football but me and my mum like to watch Masterchef and Strictly Come Dancing."
Rebecca, York, England