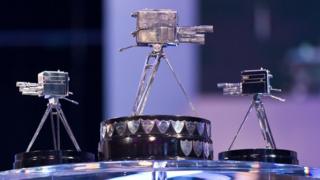 After the brilliant summer of British sport there's a new competition for sports stars to fight it out for, Sports Personality of the Year.
A new expert judging panel has been set up to draw up the shortlist, after last year's controversy when there were no women among the 10 names selected.
There will also be two extra spots on the shortlist this time, to reflect the amazing year of British sport.
The winner will be announced at ExCeL in London on Sunday 16 December.
Who do you think should be on the shortlist for this year's awards?
Which British sports stars do you think should be nominated for the prize, and why do you think they deserve it?
If you send us a comment, it may be published on the Newsround website, and some comments may be used in our TV bulletins. We'll use your first name and your home town to show that it's your comment; your personal details won't be used for anything else.
Your comments
"I think that Jessica Ennis and Ellie Simmonds should get short listed because they were Team GB's golden girls for the Olympics and Paralympics. If they aren't nominated I still think an Olympian or Paralympian should be short listed because they all worked really hard for the home Olympics and Paralympics and that work should be recognised."
Ooda, London, England
"I think Tom Daley because he did a great job - not gold - but he did GB proud."
Rathuson, London, England
"I think Andy Murray or Bradley Wiggins should be nominated. Murray because of his Olympic and US Open victories and therefore becoming the first British and Scottish Grand Slam Winner (British 76 Years, Scottish first ever) and 'Wiggo', because of his Tour de France and Olympic victories."
Freddie, Falkland, Scotland
"I think the award should go to Bradley Wiggins!!!"
Rob, Barnsley, England
"I think Chris Hoy should get the award because he won Great Britain loads of medals in the Olympics. My other choice would be either Jessica Ennis for winning the Heptathlon and becoming the Heptathlon world champion, or Ellie Simmonds for winning two golds in the Paralympic Swimming Events."
Alfie, London, England