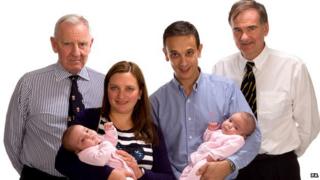 PA
Twins Rosie and Ruby who were joined by the stomach at birth are doing well after an operation to separate them at London's Great Ormond Street Hospital.
The girls were born on 26th July and operated on the next day.
Their mother Angela Formosa says her "smiling bubbly babies" are doing well and she is incredibly grateful to the hospital staff.
She said: "What they have done for my two girls is amazing. When I was pregnant they were saying that the survival chances were quite low."
"For them to have been operated on and doing so well - it is amazing."
The babies will need further treatment in the future, but the hospital expect them to lead happy, normal lives.