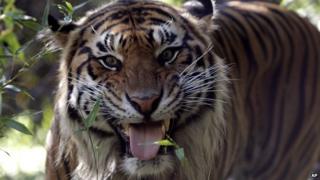 AP
Jae Jae the Sumatran tiger has travelled nearly 4,000 miles from Ohio in the US to meet his new mate, Melati, at London Zoo.
Sumatran tigers are among the most endangered species in the world with around 300 left in the wild.
Keepers at the zoo hope Jae Jae will breed with Melati, a female from Australia, to help save the critically endangered species.
Both tigers are around four years old and both have been bred in captivity.