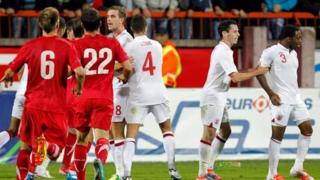 Allsport/getty images
Both England AND Serbia have been charged by Uefa over the behaviour of their players in Tuesday night's Under-21s Euro qualifier.
England won the game 1-0, but there was a scuffle between the sides on the pitch after the match in Krusevac.
Uefa, who run European footie, also said they're charging the Serbian FA over racist chanting, directed at some England players by some Serbian fans.
The cases will be discussed by Uefa in November.
England made it through to next year's Euro finals 2-0 on aggregate.
Following the game, Clarke Carlisle, the head of the Professional Footballers' Association, told Newsround that Uefa need to act on racism. Read the full story here.