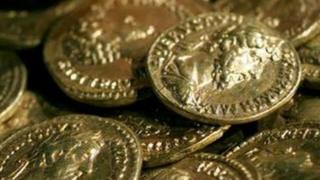 AP
A novice treasure hunter has discovered the country's finest ever hoard of Late Roman gold coins.
The amateur bought a basic metal detector costing £135, described as being "ideal for children to use for a hobby".
The hoard, discovered near Berkhamsted in Hertfordshire, could be worth more £100,000.
Local experts have classed the coins as "Gold Soldi", which would have been used by Romans for big purchases like areas of land or shiploads of goods.
Heritage officials describe the discovery as "a nationally significant find."