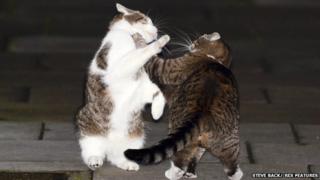 Steve Back/ Rex Features
Drama at Downing Street is not unusual but this time the disagreement was between cats!
Larry, the Prime Minister's moggy, and Freya, who lives next door with Chancellor George Osborne, clashed outside Number 10, just feet away from police officers.
David Cameron's pet was then ordered indoors in an attempt to stop the fur fight.
Larry joined the Cameron family in January 2011 as "Chief Mouser", although it's thought that instead of hunting he prefers to sleep!
Freya moved with the Osbornes from their Notting Hill home to Number 11 and has taken over most of Larry's mousing duties.
The Prime Minister's official spokesman said: "I am not going to get into commenting on the adventures of our feline friends in Downing Street."
Asked about how well the felines get on, the spokesman added: "They co-exist."