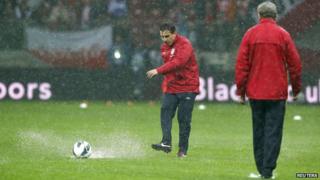 Reuters
Rain washed out England's World Cup qualifier game against Poland on Tuesday.
Heavy downpours meant the pitch in Warsaw was too wet for the teams to play on.
But the announcement wasn't made to fans until an hour after the scheduled kick-off time.
The match is now re-scheduled to be played on Wednesday but officials aren't sure the pitch will be dry in time.
England manager Roy Hodgson said; "It's going to need a lot of attention if it's going to be playable tomorrow afternoon."
Wales suffered a knock to their World Cup hopes after losing 2-0 away to Croatia.
Scotland held off Belgium until the second half of their game but failed to keep up their defence, eventually losing 2-0.
Northern Ireland narrowly missed out on a surprise win against Portugal, they were 1-0 up until a late equaliser from Helder Postiga brought the scores equal.