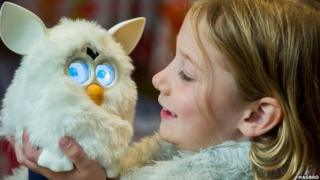 Hasbro
You might have some hi-tech toys on your wish list for christmas but those toys could be challenged by an old favourite which has been given a bit of a makeover.
Furby first came out in 1998 and even then they were pretty advanced, they had infrared eyes which meant the toys could communicate with each other.
It could also "listen" to conversations and be taught to say words.
This time, its infrared eyes have been replaced with two small LCD screens, its body has more motors and sensors than before and it comes with its own smartphone and tablet app.
The app will even translate Furby's warblings into English.
"We've reinvented Furby with advanced technology that brings a whole new way to play to kids," the company gushed.
"The personality of each Furby appears to evolve by the way children play with it, and every unpredictable action and reaction helps make each Furby seem unique."
Other top xmas gifts aren't quite as high tech but still make it to the list of potential best sellers for Christmas.
Christmas wish list
Monster High Doll
Web Shooting Spiderman
Moshi Monster App Monster
Subbuteo
Innotab 2
Nerf Elite Hail Fire
Barbie Puppy Play Park
Master Moves Mickey
LegoLord of the RINGS, The Battle of Helms Deep
LeapPad2 Explorer
Toys listed part of predicted top sellers list from toy store Hamleys.