AP
The artist Damien Hirst's latest exhibition has been criticised by animal rights groups because it's been discovered that around 9,000 butterflies died during the five month show.
The artwork, named "In And Out Of Love", featured live butterflies as they flew, rested and fed on bowls of fruit.
Many died after being trodden on or brushed off visitors' clothing.
Thousands more died naturally during the exhibit and had to be replaced.
Animal rights charities criticised the artist, whose other works include a preserved shark and a jewel encrusted skull.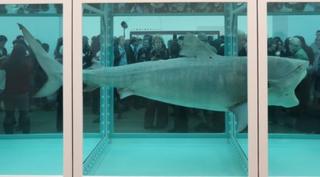 Getty Images
An RSPCA spokesman said: "In this exhibition, butterflies are forced to exist in the artificial environment of a closed room for their entire lives.
There would be national outcry if it involved any other animal, such as a dog."
Defending the use of the creatures, a Tate representative said: "The butterflies used... were selected from varieties known to thrive in the conditions created... with many enjoying longer lifespans than in the wild due to the high quality of this environment."