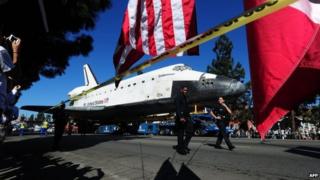 AFP
The retired US space shuttle Endeavour has finally reached its new home in Los Angeles' museum after long delays caused by trees along the route.
It took the spacecraft three days instead of the expected two to travel just 12 miles (19km).
Hundreds of trees, traffic lights, power lines and parking meters were removed to clear the path.
Thousands of city residents turned out to see it pass.
For its trip across Los Angeles, Endeavour was placed on a 160-wheeled carrier which was guided by remote control.
One of the big challenges was getting the shuttle across a bridge over a big road called the Interstate 405.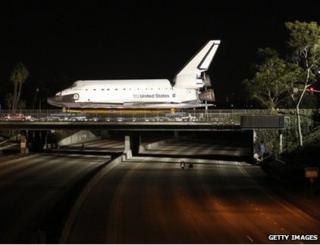 Getty Images
Four hundred trees had to be cut down to allow the shuttle to travel down the road but some were too old or precious to be removed so the wings of the shuttle had to be dipped to avoid it getting stuck.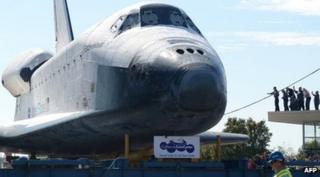 AFP
Former shuttle commander Mark Kelly, who captained Endeavour's final flight, said he hoped the spacecraft would become an inspiration for future generations of astronauts.
"Maybe some day one of these kids that see Endeavour, look up at it at the California Science Center, will be that person that walks on the planet Mars?" he told US broadcaster CNN.