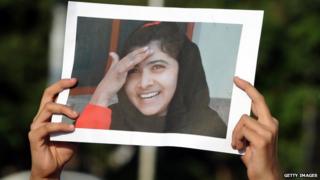 Getty Images
A Pakistani schoolgirl shot by the Taliban is being brought to the UK for more treatment.
Malala Yousafzai, 14, who campaigns for girls' rights in her country, was targeted as she was travelling on her school bus.
The Taliban didn't like her criticising them by saying girls should be allowed to go to school.
Doctors operated on her last week but she'll be flown over here for more treatment.
Malala is in a serious condition and needs help to breathe because her injuries are severe.
There have been lots of protests in Pakistan against the shooting.
Last Friday, people across Pakistan held a day of prayer for her recovery.
Pakistani officials have offered a reward for information leading to the arrest of the attackers.