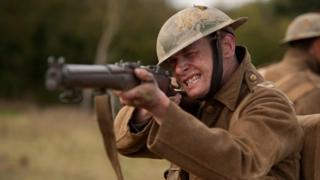 other
Private Peaceful is a story written by famous childrens' author Michael Morpurgo.
The movie follows his book about how World War 1 affected two brothers growing up and trying to survive.
It's similar to the other Morpurgo novel War Horse which is also set in the 1st World War.
Here's Joe with everything you need to know about Private Peaceful.
When's it out?
It's in cinemas today!
The Plot
The film is about two brothers - Tommo and Charlie. They're best friends growing up in Devon who get into all sorts of trouble together and both fall in love with the same girl from school. Then the war starts and everything changes. Charlie marries the girl and Tommo goes off to war with lots of his friends from school.
The film is about how Charlie and Tommo end up fighting in the horrible conditions of Flanders Fields and work together to try and win the war and get home to their family.
The stars
Tommo and Charlie are played by fairly unknown actors, but you might recognise their nasty boss who is played by Harry Potter's Richard Griffiths (Harry's horrible uncle).
Hit or miss?
Hit - as long as you like history and drama! The story is really good as you get to follow the brothers to war and find out what it was like. It was horrible though so there are some upsetting parts where people are killed in battle.
The acting is good as well and you really feel that Tommo and Charlie are brothers.
The action is great but there could have been a lot more. There are some long stretches in the film where there is a lot of talking which can make it feel a bit slow.
Overall though, it's not as good as Michael Morpurgo's other story - War Horse - but if you loved that you'll probably like this as well.
NR rating: 3 out of 5