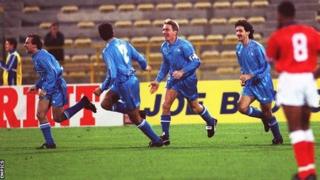 Empics
Wayne Rooney will lead England out at Wembley tonight hoping to avoid falling victim to the biggest bananaskin in the game.
According to Fifa's rankings, San Marino are officially the joint-worst team in international football.
But although on paper it might look like an easy game for Roy Hodgson's men, nothing can be taken for granted.
Here's Newsround's 'Top 5' stats about football's biggest underdog.
5) There's not many of them
One of the biggest problems facing San Marino's manager is that he doesn't have many players to choose from.
There are just 31,000 people living there, meaning you could fit the entire country's population Wembley Stadium's seats, three times over.
4) Twin-credible
Goalkeeper Aldo Simoncini and twin brother Davide, who plays in midfield, hold a unique international record.
They are the only twins to have scored own goals in the same match when San Marino lost to Sweden in September 2010.
3) Hat-tricks galore
Wayne Rooney and Andy Carroll are set to start up-front for England tonight and they'll be looking to get in on the goals.
The last two times these teams have met, an England player has scored four times.
2) Homesickness
San Marino have NEVER won away in a World Cup qualification game and have avoided defeat just twice in the past decade.
In fact they haven't tasted victory since April 27 2004, when they beat Liechtenstein 1-0 in a friendly. It remains their only win in international football. Ever.
1) Bananaskin?
But San Marino do hold the record for scoring the fastest-ever goal in a World Cup qualification game - and it came against England.
In 1993 Davide Gualtieri scored after just eight seconds to give his side a 1-0 lead. England eventually came back to win the game 7-1, but they won't want the same thing happening again tonight.