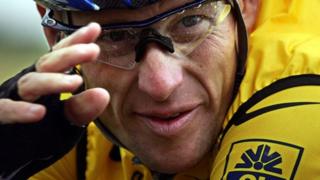 Lance Armstrong 'serial cheat'
It's being called the biggest sport doping scandal in history - with cycling star Lance Armstrong at the heart of it.
The US Anti-Doping Agency (Usada) has put together a 1,000-page report which it says contains firm proof Armstrong took drugs to help him win.
It claims that Armstrong, who won the Tour de France seven times, "engaged in serial cheating".
Armstrong denies the allegations but hasn't contested them.
His lawyers have called it a one-sided personal attack.
Armstrong's former teammates have come forward, saying that he bullied them into taking performance-boosting drugs too.
But some people still believe he's a heroic figure.
British cyclist Alex Dowsett says Lance Armstrong remains "a legend of the sport" despite the doping accusations against the American.
The International Cycling Union has 21 days to appeal against today's decision about Armstrong.
If it doesn't, it'll have to strip Armstrong of his seven Tour de France titles and ban him from the sport for life.