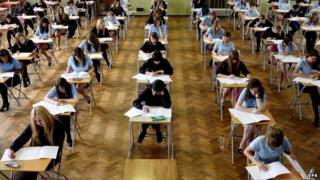 PA
More than 45,000 students are to resit their English GCSEs next month after a row about grades.
That's about one in 14 of those who took the exam earlier this year.
Pupils from England, Wales and Northern Ireland were offered the chance to redo part or all of their GCSE English after complaining they had not received high enough grades.
Exam boards said they were offering the English resits free of charge to schools.
One of the country's largest exam boards, AQA said that it had "awarded the right grades" but understood students' disappointment.
But Brian Lightman, general secretary of the Association of School and College Leaders, said: "We know that thousands of students who sat the exam in June and got a D grade achieved the same level of work as their fellow students who took the exams in January and received a C.
In Wales the education minister Leighton Andrews ordered the WJEC exam board to regrade Welsh students' English papers.
As a result, last month nearly 2,400 pupils received better results after a review of the marking system.