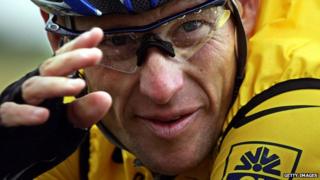 Getty Images
Lance Armstrong won the Tour de France a record seven times - more than any other man in history.
For many years he's been seen as a sporting legend to fans all over the world.
But now his reputation is in tatters after a 1,000 page report by the United States Anti-Doping Agency says he took performance-enhancing drugs throughout his career.
Armstrong has always denied doping, but the American has not contested Usada's charges.
Who is Lance Armstrong?
For years Lance Armstrong was the most celebrated man in the cycling world.
He was remarkably successful throughout his career, making it into the US cycling team while he was still at school.
In 1996 he was named as the world's top cyclist, but was diagnosed with cancer later that year.
After undergoing intensive treatment he recovered, and to many people's amazement, returned to cycling to win an unprecedented seven Tour de France titles.
What does the Usada report say?
The report says Armstrong and his pro cycling team were part of the most professional and successful doping programme that sport has ever seen.
It says that Armstrong took illegal substances throughout his career, with the help of doctors, drug smugglers and his team-mates.
Armstrong had ultimate control over his own personal drug use and that of the rest of his cycling team.
The Usada has banned the 41-year-old for life and stripped him of all his Tour de France titles.
Why is it such a big deal?
The report reveals that organised doping was a huge problem in competitive cycling, over a very long time.
It also raises questions as to how many other teams in the sport were guilty of the same thing.
Cycling has done a lot to clean up its image in recent years, with top stars like Bradley Wiggins and Sir Chris Hoy restoring public confidence in the sport.