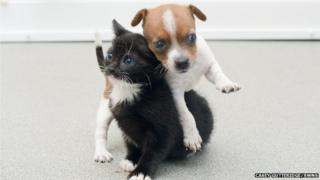 Casey Gutteridge/SWNS
An abandoned puppy and kitten have struck up an unlikely friendship and become best friends.
Buttons the pup and Kitty the cat met at Battersea Dogs & Cats Home when they were both just a few days old.
The pair have become so inseparable that they sleep, play and even feed together.
It's unusual for a cat and dog to bond but staff at the home decided to try and raise them together because they were both so young.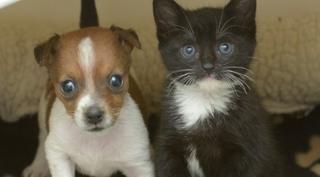 Casey Gutteridge/SWNS
Buttons is a Jack Russell terrier and is now four weeks old. She was brought to the Dogs and Cats Home with her mum and dad after their owners couldn't look after them.
Her mum gave birth to eight puppies but Buttons was the smallest and weakest of the litter and needed to be fed by hand.
Not long afterwards, Kitty arrived, just one week old. She was left behind by her mum and was found by someone walking past, who brought her to the home.
Staff say they're not sure if they'll be rehomed together but they hope it'll be possible to do so.