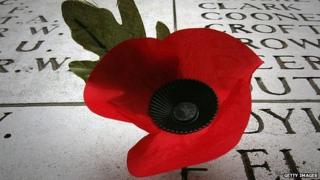 Getty Images
How should we remember 100 years since the start of World War I?
Prime Minister David Cameron is announcing on Thursday his plans on how to commemorate the anniversary in two years' time.
World War I lasted from 1914 to 1918 and was called the "war to end all wars". The scale of destruction, and the loss of human life, was like no other war before it.
Research from the study group British Future suggests:
More than two thirds of adults want events to mark the UK's shared history

More than eight out of ten people want flags flown at half mast

More than half think sporting fixtures should be postponed as a mark of respect

Around half of people reckon that shops should close for the day
How should we remember World War I?
We asked you how YOU think we should commemorate the First World War. Here's a few of your comments.
Your comments
"I think a plane should drop one poppy for each of our soldiers who died in WWI."
Maddie, Essex, England
"I think we should have a moment of silence and wear red poppies."
Chloe, Glasgow, Scotland
"I think that everyone should wear red and a poppy as well as go to a memorial and remember those who died for us. If they hadn't who knows what we'd all be like? What language would we speak? Would we even be alive?"
Harriet, England
"I think not only should we wear poppies but we should have a big bell and have a few seconds to think about the war."
Sayma, London, England
"We should have a minute of silence to remember those and the Queen should make some sort of speech."
Ayesha, Feltham, England
"I think that we should learn more about WW1 and WW2 in school."
Chloe, Northern Ireland
"I think we should have a day off school and have a big parade in red and black to respect those amazing people who risked their lives during World War I."
Thomas, Croydon, England
"I am in a local cub pack and on the Sunday closest to the 11th November [Armistice Day], we go to the local memorial and sing hymns and say speeches to commemorate those who died for us."
Yasmin, Southborough, England
"I think there should be a street party and stalls selling poppies to show how much we care. I think there should be a guest of honour, like the Queen. There can be entertainment and invitations and a fancy dress party and fun and games for the kids."
Alicia, Slough, England
"I think it's a very special day to remember because all those innocent people died for us."
Rosanna, Bury St Edmunds, England
"I think we should wear red and have a poppy on."
Hope, Chesterfield, England
"I think we should wear red and black clothes to show our respect to the people who died in World War I."
Saiba, Manchester, England