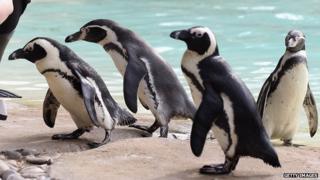 Getty Images
Six penguins at London Zoo have died from an outbreak of the disease malaria.
The animals got an avian (bird) strain of malaria from mosquitoes, and died in August.
Zookeepers had boosted the birds' anti-malaria medicine due to fears the wet summer weather would help mosquitoes thrive.
The remaining penguins are said to be "healthy and well".
Avian malaria cannot be passed on to humans, nor from bird to bird.
Malaria is a tropical disease and penguins usually live in cold and windy places, so they don't often get infected.
But London Zoo says that avian malaria is common among the wild bird population in the UK.
It added that it's working hard to stop this "very sad occasion" from happening again.