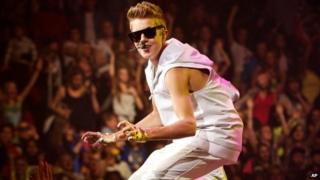 AP
Justin Bieber has revealed some of his belongings, including "personal footage", were stolen during a show in America.
He tweeted that he and his tour manager Josh had some stuff taken on Tuesday night at Tacoma Dome, Washington state.
Bieber wrote: "I had a lot of personal footage on that computer and camera and that is what bothers me the most. #lame #norespect"
The teen star added: "People should respect other's property."
A Tacoma police spokesperson said that officers are not investigating because no police report was filed.