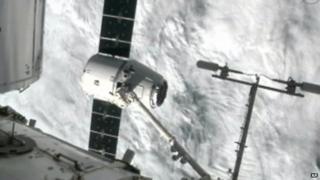 AP
A vehicle sent into space to deliver supplies has joined the International Space Station.
The SpaceX Dragon capsule docked early on Wednesday morning.
A special robotic arm was used to grab the capsule and bring it safely to the station.
The rocket lifted off from Florida on Monday carrying food, clothes and spare parts for six astronauts living there.
When it got into space, the capsule broke off from the rocket.
The capsule hasn't got anyone on it and will stay at the space station for two and a half weeks. Astronauts will take all the supplies off and then reload it with failed equipment and scientific experiments that can be sent back to NASA.
This is the first of 11 trips for the capsule to make sure the space station is fully stocked up.
The rocket was made by a private company, rather than NASA, making it the first commercial space cargo mission.