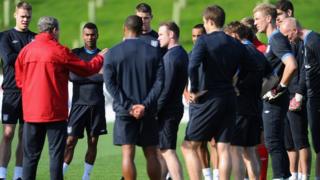 Getty Images
England's footballers are getting a new set of rules to make sure they behave on and off the pitch.
The Football Association say they'll keep a close watch on behaviour between players and how they act towards the ref.
And if players break the rules, they could be suspended.
The FA says it's been looking at this for months and it hasn't come about following Ashley Cole's angry outburst against them.
David Bernstein - the chairman of the FA wants to have the new rules ready by the time England play Sweden next month.
And some of the top people in English football have already given the senior England squad a 10-minute presentation on what to expect.
So far players haven't been banned from using social media such as Twitter but have been warned they'll be punished if the new rules are broken.