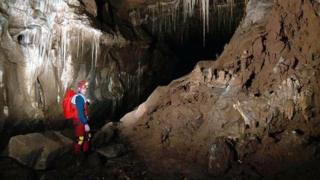 The brand new CBBC series Hero Squad takes six children and sends them on a tough training programme alongside real-life lifesavers - from coastguards and lifeboat workers to firefighters and the Royal Air Force.
One area is cave rescue teams. Here's a quick guide to who they are and what they do.
Who are they?
Cave rescue teams work to rescue people trapped underground. Around the UK there are lots of disused mines, tunnels, limestone areas and caves to explore. But sometimes people can get into trouble.
There are lots of different cave rescue teams based all around the UK. They're not funded by the government, so like mountain rescue, they need to fund themselves.
All the people who work as rescuers are volunteers and experienced cavers. They also have specialist knowledge of diving underwater and working in enclosed areas.
Often in rescue operations, teams will work with the police and other emergency services. Each police force around the UK has a designated cave rescue team which they can call on for help.
What do they do?
It's the job of cave rescue teams to:
Respond to distress calls and help search for people trapped underground;

Work with police teams and lead them to hard to reach areas;

Carry out first aid on anyone injured;

Provide information to help prevent people exploring underground areas from getting into trouble.