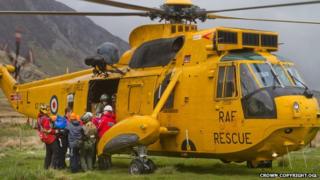 Crown Copyright OGL
The brand new CBBC series Hero Squad takes six children and sends them on a tough training programme alongside real-life lifesavers - from mountain rescue and lifeboat workers to firefighters and the coastguard.
One of them is the Royal Air Force. Here's a quick guide to who they are and what they do.
Who are they?
The Royal Air Force runs a 24-hour search and rescue operation which covers the whole of the UK and the area that surrounds it.
Their main aim is to assist military aircraft and crew in distress but most of the work they do is helping to rescue regular people who are in trouble.
The RAF has 12 helicopter units around the UK, including Angelsey where Prince William works as a search and rescue pilot.
They also have mountain rescue teams at four locations in the UK.
What do they do?
The Royal Air Force's search and rescue duties are to:
Assist military aircraft and crew in distress;

Work with other regular emergency services;

Detect emergency distress beacon alerts worldwide and help rescue attempts.