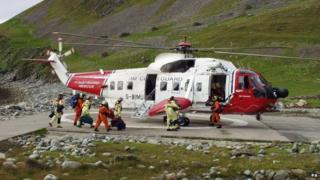 PA
The brand new CBBC series Hero Squad takes six children and sends them on a tough training programme alongside real-life lifesavers - from mountain rescue and lifeboat workers to firefighters and the Royal Air Force.
One of them is the coastguard. Here's a quick guide to who they are and what they do.
Who are they?
The coastguard works by keeping people and vessels safe at sea and on the coast.
There's 365 rescue teams around the UK that are trained to respond to emergencies day and night, every day of the year.
They also work with the RNLI and voluntary coastguards on larger operations when help is needed.
What do they do?
The coastguard duties are to:
Keep people and vessels safe by marking dangerous areas;

Carry out search and rescue operations if any people, boats or ships are in need of help;

Help with cliff and mud rescues as well as flooding;

Inspect ships and boats to make sure they are meeting safety standards;

Provide safety certificates for boats, ships and the people working on them;

Monitor pollution from shipping and offshore installations, like oil rigs.