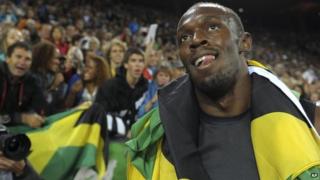 AP
You might think he'd be bored of winning so many gold medals - but Usain Bolt says he plans to defend his titles at the next Olympics.
He's said he'll run in the 100m and 200m races in Rio 2016 - events he won at London 2012 and Beijing 2008.
People thought he might change events to the 400m or the long jump - but the Lightning Bolt says he's still focused on sprinting.
He also says that next year he plans to run faster than ever before!