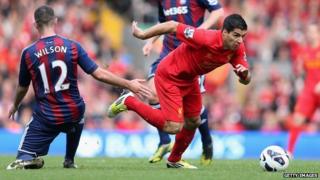 Getty Images
Stoke City manager Tony Pulis says the Football Association should punish Liverpool's Luis Suarez for diving.
"I've been on about and banging the drum about people who fall over," said Pulis. "It's an embarrassment. The FA should be looking at this."
He was speaking after the match at the weekend between the two teams ended in a goalless draw.
Pulis reckons a three-game ban would help stop Suarez 'falling over'.
But the FA isn't likely to take any action in this case - where Suarez fell down in Stoke's penalty area, without any contact from another player.
The FA would only take action afterwards if a referee hadn't noticed a red card offence on the pitch - not when something would only have picked up a yellow card.
Liverpool's manager, Brendan Rodgers, said he didn't see what happed so couldn't offer an opinion.
Rodgers said: "Whatever Luis does there will always be a problem, whether it's media, referees or whatever."
"It gets brought up every week, it's something that is not new. I thought he was terrific, some of his movement and combinations."