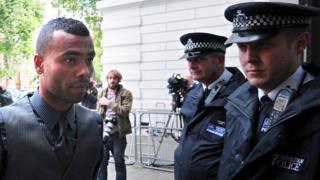 AFP
Ashley Cole has apologised for an angry outburst against the FA, following the release of more information about the John Terry racism case.
The England and Chelsea defender had given evidence in support of team-mate Terry to an independent FA commission.
But when the full details of their report were released on Friday morning it questioned whether Cole's statements about what happened had changed.
Cole then called the FA a rude name on Twitter before apologising hours later.
"Unreserved" apology
He later deleted the tweet and issued an "unreserved" apology for his outburst.
He said: "I had just finished training and saw the captions on the TV screens in the treatment rooms about what was said in the FA commission ruling about me."
"I was really upset and tweeted my feelings in the heat of the moment. I apologise unreservedly for my comment about the FA", he added.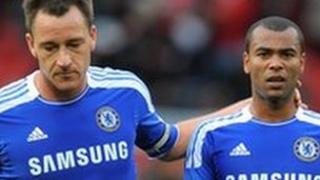 AFP
The written report
Chelsea captain Terry was banned for four matches and fined £220,000 after the FA's independent commission found him guilty of using abusive language towards QPR defender Anton Ferdinand. The longer written report said that the commission were satisfied Terry was "not a racist", but said it was "satisfied" his comments were used as an insult.
The commission also cast doubt on the evidence of Cole, who had played in the game against QPR and given a statement in support of Terry to the criminal trial.
One of the chapters contained within the report is entitled the 'evolution of Ashley Cole's evidence' and claimed he amended his witness statement by adding the word "black" to help Terry's defence.
An FA spokesman said his organisation was aware of the Cole tweet but declined to comment.