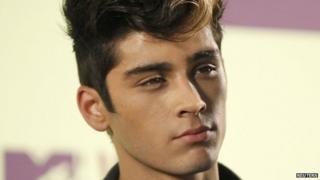 Reuters
One Direction have hit back at claims they banned questions during a radio interview with Zayn.
A DJ in Canada aired a recording where One Direction's press person can be heard listing 12 things he wasn't allowed to ask.
But the band have called it a "complete misunderstanding" in a Twitter statement released on Thursday.
It said: "A suggestion was merely made to try and make interviews more interesting for the fans."
The 'banned' list included "Which of you have girlfriends?" and "Anything X-Factor related".
The statement also said: "[The group] knew, via feedback, that the fans were requesting a wider range of subject matter in interviews.
"Questions relating to describing each band member, or referencing The X Factor, are certainly not out of bounds."
The boys are currently battling out for the number one spot in the UK charts. Read more about that here - One Direction vs Rihanna for No.1