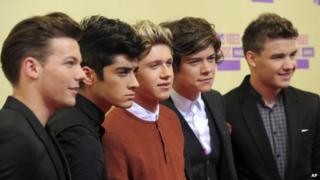 AP
One Direction are neck and neck with Rihanna in the battle for this week's number one spot.
Their new single Live While We're Young is less than 250 copies ahead of RiRi's Diamonds in the midweek chart.
But they could both face some tough competition from Adele when she releases her James Bond movie theme tune Skyfall on Friday.
Liam tweeted: "Midweek charts are reallly close. Thank you everyone who's bought it so far."
Meanwhile the boys' representatives have issued a statement denying they banned a radio DJ from asking certain questions during an interview. You can read more about that here - One Direction 'question ban' row