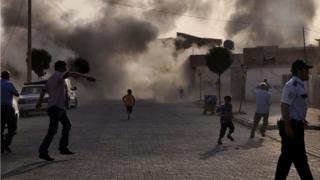 Reuters
The UN Security Council has strongly condemned a Syrian bomb attack on a Turkish border town that killed five people.
British politicians have also expressed their disapproval towards Syria and NATO has given its backing to Turkey.
The Turkish army responded by attacking a Syrian town near the border between the countries.
Areas of Turkey have been hit several times since the uprising against Syrian President Bashar al-Assad began, but this is the first time Turkey has fired on Syria.
The American Secretary of State, Hillary Clinton, called the increasing tensions "very, very dangerous".