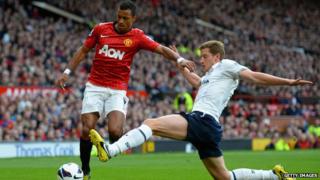 Getty Images
Manchester United boss Alex Ferguson has hit back at critics who have accused Nani of diving.
The comments came after the Reds lost 3-2 against Tottenham, during which the winger was denied a spot kick.
Ferguson said: "As a subject it is not worth going down because we have known for quite a few years there are plenty of players diving and, you have to say, particularly foreign players.
"Nani is not the type to dive. He has never been that type of player."