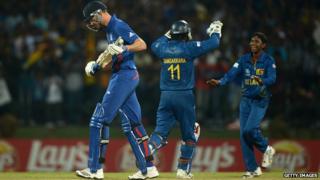 Getty Images
England have crashed out of the Twenty20 World Cup in Sri Lanka.
The defending world champions got off to an embarrassing start in their final match against the host team Sri Lanka.
At one point the side slipped to 18-3 but managed to cling on and end the game on 150-9, losing by 19 runs.
Sri Lanka will now join the West Indies in the final four of the competition.
The England team have struggled in all of their matches, especially at the top of the order with their batsmen failing to score any big run totals.
Captain Stuart Broad said; "I thought we had the power to go far in this tournament but, with a young side, you get good performances and you get some average ones.
"We have been a little bit too inconsistent but we are learning from every game and that is important."