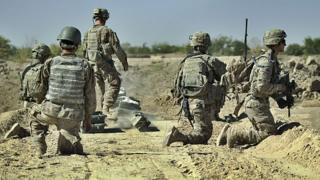 Getty Images
The number of American military personnel who have died in Afghanistan during the war there has reached 2,000.
A soldier was killed on Saturday but details of what happened are still being investigated.
Another attack in eastern Afghanistan on Monday may have further increased this number but the nationalities of the soldiers are still to be confirmed.
American troops have been in the country since 2001, when the war began. They are set to leave in 2014.
Since 2001, 433 British soldiers have also been killed and about 10,000 members of the Afghan security forces.