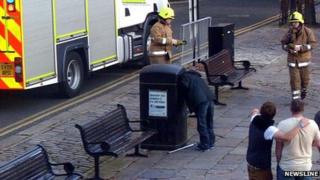 Newsline
Firefighters in Aberdeen were called to the rescue after a man got his head stuck in a public litter bin.
It isn't known how the man got his head trapped in the 4ft-high waste bin.
A spokesman for Grampian Fire and Rescue Service said the man was not injured.
He was taken to hospital for a check-up though.
Let's hope his friends don't find out what he's 'bin' up to!