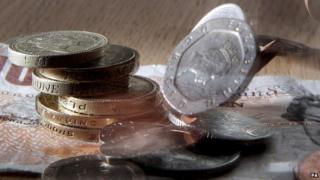 PA
From the start of October, the lowest amount of money someone can be paid for doing a job is changing.
The government sets a minimum wage to make sure people are paid fairly.
The smallest amount you can be paid changes depending on how old you are.
People over the age of 21 will be getting more, with the least they can get an hour going up from £6.08 to £6.19.
But there's no change to the rate for people under 21-years-old.
The rate for 16 and 17-year-olds is staying at £3.68 an hour and the amount for 18 to 20-year-olds is sticking at £4.98 an hour.
The minimum wage was first introduced in 1999.
We want to know what you think about this
Do you have a job? How much do you get paid for the things that you do?
How much do you think the minimum pay should be? Do you think people should get more money, or do you reckon the amounts are fair?
Whatever you think, we want to know!
The chat page has now closed, but check out some of the best comments below.
If you send us a comment, it may be published on the Newsround website, and some comments may be used in our TV bulletins. We'll use your first name and your home town to show that it's your comment; your personal details won't be used for anything else.
Your comments
"I reckon minimum wage for 18-20 year-olds should be £5.80 because most of the 18-20 year-olds are in places of their own and struggle to live."
Cassie, Somerset, England
"I think that the minimum wage should be raised as the cost of living has gone up and some people can't afford to live."
Caitlin, Manchester, England
"I think people who do the same work should be paid the same wage regardless of their age."
Natasha, Liverpool, England
"Young people should be paid fairly because we are still offering our time and working like adults do. I want a job but it's so hard to find one, as we can't work in many places. I think we should still be paid the same as people over 21 as we do the same work so it's only fair."
Molly, London, England
"I think that it's fair as children don't need so much money because their parents should be the responsible ones and jobs for young people aren't strenuous anyway."
Daisy, Bristol, England
"I think it's a good thing that this is happening, everything else is going up so why shouldn't the minimum wage?"
Susie, Cheshire, England
"I think adults should have just enough to eat, pay bills and have a treat every so often... I think they should be getting maybe £7.62. :)"
Jessica, England
"I don't think that people should get paid for their job according to age. It's not fair for a 17-year-old and a 22-year-old to be doing the same job but be paid a totally different amount because of their age."
Aaishah, Bradford, England
"Being 14 years old I feel that it is important to earn my own money, so I do a paper round for my local area and I think that the pay rate is pretty fair."
Hasan, Lancashire, England
"I think that the wage for under 21's should be raised!"
Isabel, Plymouth, England
"I don't think it is fair, it should be based on your skills not your age or degree!"
Firdaus, London, England