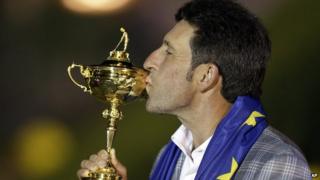 AP
Europe's golfers are celebrating one of the most amazing wins in the history of the Ryder Cup.
They beat the USA by one point on the final day, coming back from four points behind!
Everyone thought the trophy already had the USA's name on it because they only needed four points out of the twelve that were on offer.
But the 12-man European team managed to pull off an amazing come back and won a massive eight and a half points on the last day.
Star putter Ian Poulter said; "We just felt we had that tiny little chance and we've made history - unbelievable."
Europe went into the tournament as current champions, so only needed a draw to keep the trophy.
The day didn't get off to a great start for all the team, Rory McIlroy's got to the tee just ten minutes before the start after confusion about what the time was!
He had to be driven to the course in Chicago by a police car to make sure he made it on time.