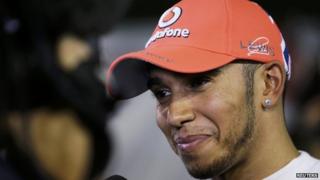 Reuters
Lewis Hamilton is to leave McLaren and sign to race for Mercedes from next season.
The move is expected to be announced on Friday and will have a huge knock on effect on the rest of Formula 1.
It has forced Michael Schumacher out of Mercedes but it it is not clear whether the German legend will go back into retirement or look for another team.
Sauber driver Sergio Perez is expected to be Hamilton's McLaren replacement.
Hamilton's decision is a huge blow to McLaren, who will now have to do without the super speed of a man they have trained since he was 13 years old.
Its a massive signing for Mercedes though, who have struggled since returning to the sport as a team owner in 2010.
Hamilton has been offered number one status and will be partnered by German Nico Rosberg.
The Brit's salary at Mercedes will be larger than the one he was offered by McLaren but sources close to the 27-year-old insist he's switched teams because he thinks he's got a better chance of winning another world title.