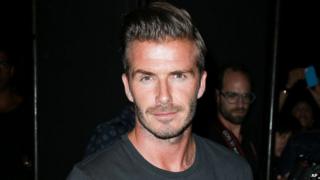 AP
Manchester United legend David Beckham has revealed that one of his kids is an Arsenal fan!
Ten-year-old Romeo became a Gunner after meeting Arsene Wenger at a game last season.
Luckily for United-loving Becks, his two other boys, Brooklyn and Cruz, have both stayed loyal to the Red Devils.
Becks said: "I tried to get United shirts on them early but one of them is an Arsenal fan. I don't know how it happened!"
Romeo was given an Arsenal shirt with his favourite number on the back by Gunners boss Arsene Wenger, after he went with his superstar dad to see them play.
But Becks isn't too bothered saying: "I let them support whoever they want."
He said that his one-year-old daughter Harper has yet to decide!