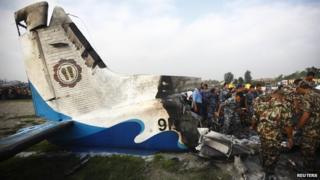 Reuters
A plane carrying nineteen people has crashed in Nepal.
The aircraft was taking a group of explorers, including seven British people, to Mount Everest but it crashed just after taking off.
All sixteen passengers and three crew members died in the accident.
The cause of the crash is not yet known but conditions were said to be clear at the time. There are some early reports that suggest the plane might have hit a large bird.
Flying accidents involving small aircraft are not uncommon in mountainous Nepal. This morning's crash is the fifth in the last two years, and 83 people have been killed. In the last incident, 15 passengers were killed while landing at an airport in northern Nepal in May this year.
However flying is still a very safe means of travel.
According to the Civil Aviation Authority, when travelling on UK airlines there is only a 1 in 287 million chance of dying - meaning there is more chance of being struck by lightening or winning the lottery.