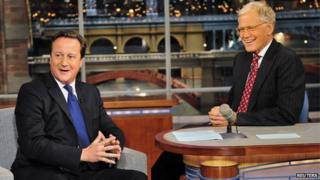 Reuters
Prime Minister David Cameron has appeared on a big talk show in America but was a bit embarrassed by his performance in a quiz.
The PM was on the Late Show with David Letterman to talk about the UK and to get people interested in visiting and doing business here.
The show is really popular and watched by millions but the Prime Minister won't have impressed everyone with his knowledge of history. When he was asked some questions, he got most right but a couple wrong!
He didn't know who wrote the famous song 'Rule Britannia', or what 'Magna Carta' meant.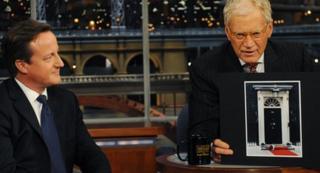 Stefan Rousseau
The Magna Carta was a very famous agreement between the king and his nobles way back in 1215, that changed the way England was ruled and meant the king had to obey the law like everyone else. David Cameron didn't know that Magna Carta is Latin for "great charter".
He also thought that Rule Britannia was written by composer Edward Elgar. The right answer is Thomas Arne - who put words by James Thomson to music.
So now you can tell your friends, family and teachers that you know more than the Prime Minister... (sort of).