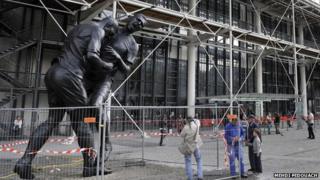 MEHDI FEDOUACH
For all the wrong reasons, it's one of the most famous moments in footy history.
And now Zinedine Zidane's headbutt in the final of the 2006 World Cup has been turned into a statue!
An artist has created the statue in France as part of series of works of art to remember famous moments in history.
The bronze work measures in at nearly 5 metres tall and will be on display in Paris until January.
France's Best Player
Zinedine Zidane was possibly the best player to ever play for France, winning the World Cup with them in 1998.
The final of the 2006 competition was his last ever match for his country and he stood on the brink of winning the trophy again against Italy.
With a matter of minutes to go and with the match level at 1-1, Zidane turned around and headbutted Italian defender Marco Materazzi in the chest!
He was sent off and France went on to lose the match on penalties - Zidane later explained that he headbutted Materazzi because he'd said rude words to him.
Now everyone walking past the Pompidou art museum can remember the moment all over again.