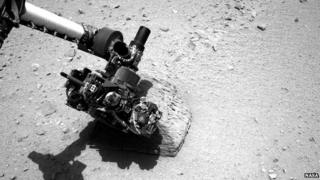 NASA
Nasa's Curiosity rover has completed its first close-contact science mission on the red planet.
The robot pushed its high-tech arms against a rock to find out which elements it was made from.
It gave scientists an early chance to demonstrate the performance of the rover's special technology - a "hand lens" and X-ray spectrometer.
The mission is trying to find out whether life could be supported on Mars.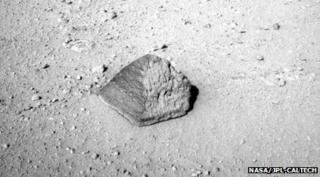 NASA/JPL-Caltech
On Monday, Curiosity moved 42 metres, the furthest the robot has travelled since landing on the red planet seven weeks ago.
The vehicle is trying to get to a location that scientists have nicknamed Glenelg. Satellite images have shown that it's a junction between three types of geological terrain.
Once it gets to Glenelg Curiosity is likely to use one of its key arm tools - its drill - for the first time.