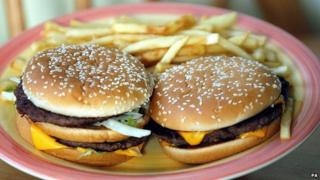 PA
Parents are struggling to know how to stop their children becoming overweight, a new study has claimed.
Research at Oxford University looked at the weight problems and eating habits of almost 50,000 children and also found that being obese as a child may have a bigger effect on your future health than previously thought.
The study says better cooking skills, more money to buy healthier food and better education about what foods are best for children was needed to help parents.
There are around 43 million overweight under five-year-olds across the world.
They found that obese children could be at a 30-40% higher risk of heart disease than their normal weight counterparts.
Childhood obesity is a big problem in the UK. The recent start of the new school year saw a huge rise in demand for extra-large uniforms for primary school pupils.
The lack of exercise done by kids was also cited as a big problem. Last week a study suggested that up to 75% of junior school children preferred to stay at home than go to their nearby park.