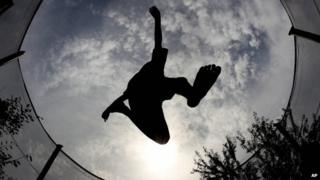 AP
Children should not use trampolines for fun in their homes and gardens, doctors in America have warned.
The American Academy of Pediatrics (AAP) said safety measures like netting and padding don't stop people from getting hurt.
Injuries have actually fallen, but the AAP said it was because fewer trampolines were being used.
One trampoline maker, Mark Publicover, said trampolines were safer than other activities like climbing and swings.
The AAP added that most trampoline injuries happen when more than one person is jumping on the trampoline.
It also said that failed attempts at somersaults and flips can lead to the most serious injuries.
Outdoor play
Meanwhile, the National Trust charity has said that children aren't getting enough time to play outdoors.
It puts it down to worries about strangers, a lack of safe outdoor places to play in and overly tough safety rules.
The National Trust owns and runs hundreds of historic buildings and gardens in England, Wales and Northern Ireland.