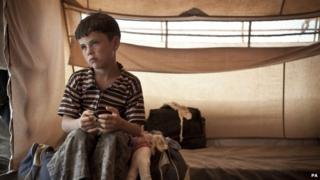 PA
The war in Syria is having a hugely damaging effect on children in the country, a charity has warned.
Save the Children say many kids could suffer long term damage after witnessing deadly attacks and being the victims of violence themselves.
The charity's been talking to children who've fled the country and are living in refugee camps.
One boy, Ali, 12, told the charity: "You can't even imagine what I've seen, and what Syria has seen."
Amani, 13, recounted: "Once, when I was in the shelter, I was so scared I had a fit. My sister told me it was a breakdown."
Violence has been going on in Syria since March 2011 between forces loyal to President Bashar al-Assad and those who are against his rule and want him to step down.
Save the Children are calling on the United Nations to send more officials into Syria to monitor what's happening.