Hundreds of people have been forced to leave their homes because of heavy rain and flooding across the UK.
More than 200 homes have been flooded and train services have been disrupted.
About 80 areas in England and Wales are being warned to expect flooding, with northern England the worst affected.
The Met Office, who monitor weather in this country, say some areas could see 50mm of rain - an average fortnight's worth - by the end of Tuesday.
IMPACT OF THE FLOODS
Flooding has also closed some parts of major roads, with more than 100 vehicles trapped on the A1 in North Yorkshire.
Earlier in the day ten people, plus a cat and a dog, were taken to safety on inflatable rafts by firefighters in St Helens, Merseyside.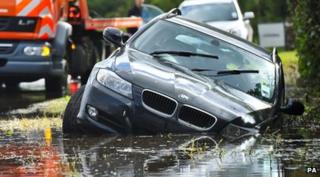 PA
Strong winds are also expected in parts of Northern Ireland and Scotland, with gusts of up to 70mph in coastal areas.
In north Yorkshire, six people had to be rescued from vehicles stranded in floodwater on Monday night.