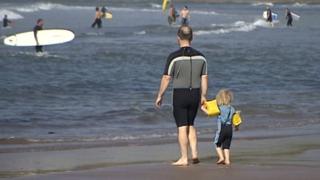 Summer rain bad news for beaches
The record rainfall we've had this summer could mean bad news for the cleanliness of our beaches.
New scientific tests of the sea around some of our favourite holiday resorts mean the number judged to be too dirty to swim could more than double this year.
In 2011, 10 beaches in England and Wales failed to meet the standard needed for swimming. This year it looks like that could rise to 26.
It's because months of heavy rain have swept more fertilisers and pesticides from farms into rivers and then the sea. Adding to that, there's the problem of sewage pipes overflowing.
Leah reports on the problem and finds out what's being done about it.