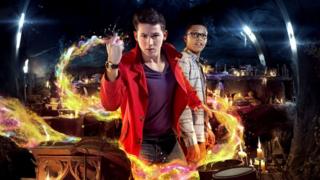 The ultimate battle of magic versus science is about to begin - and we want YOU to get involved!
Wizards vs Aliens is a brand new action adventure drama hitting CBBC this October, with Newsround EXCLUSIVELY revealing what the aliens look like on Friday 28 September.
In the meantime, we want you to send in YOUR drawings of what you think the aliens might look like...
Email your designs to newsroundpix@bbc.co.uk along with your name, age and hometown.
We'll show as many of them as possible on TV and on our website, but it's just for fun - the designs won't be used in the actual programme Wizards vs Aliens.
What's Wizards vs Aliens all about?
The new series is from the creator of The Sarah Jane Adventures and former Doctor Who boss, Russell T Davies, and Doctor Who and Sarah Jane writer Phil Ford.
It's about a young wizard who has to fight off a race of aliens called the Nekross that feed on magic.
The aliens have drained every planet in the Universe of magic and now have their eyes set on Earth...
What do you reckon these magic-sucking creatures look like?!